House Insulation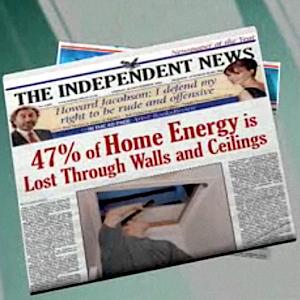 Almost by definition, a green home is one that is very well insulated and airtight to maximize energy efficiency. Appropriate amounts of insulation coupled with good green design can drastically minimize the amount of energy used to heat or cool a building.
There are many types of insulation available which can achieve excellent energy performance, such as the commonly used fiberglass batts, blown-in cellulose, spray foam, and rigid foam boards. The insulating performance (or R-value) is the main criteria to consider when selecting insulation. Basically, the higher the R-value, the more effective an insulation is.
Other important areas to consider when choosing insulation for a green home are the raw materials used for the product's manufacture, the amount of pollution generated from manufacture, and the impact on indoor air quality from a product's use.
The quality of insulation installation can have a big effect on any insulation's performance. The most efficient insulation installed improperly will not achieve its rated R-value.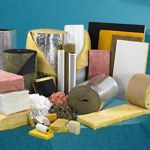 Insulation Types
There are a number of different types of insulation on the market today; each have their own set of benefits, as well as some potential drawbacks. Some types of insulation are also considered more 'environmentally-friendly' than others.
The type of insulation you choose for your green home will depend on a number of variables. Where it's being applied (floor, wall, attic), its' effectiveness (R-value), and cost of installation will all factor into your decision.
For more information about house insulation, see the links below, or visit our overview page- Insulation Types.
---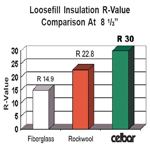 Insulation R Value
The term R Value pops up a lot when it comes to insulation, but what does it really mean? We will discuss R Values, what they are, and what R Value can mean to you in order to save the greatest amount of energy in your home.
The R value is the basic energy design factor that needs to be assessed when shopping for insulation. We will arm you with everything you need to know about R Values.We'll look at minimal R Values for different parts of the home and types of insulation, as well as a NAHB zone map to identify adequate R Values around the country.
Learn all about this at our page Insulation R Value.
---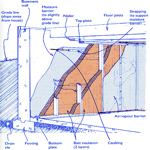 Basement Insulation
Basements or walk-outs are being utilized more and more as living spaces. An amazing amount of energy can be lost through basement walls; there are specialized insulation systems available to keep these spaces toasty warm and energy-efficient.
Get more information at the page, Basement Insulation.
---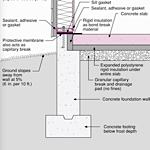 Underfloor Insulation
Underfloor Insulation is probably one of the most overlooked and underutilized methods of insulating our living spaces. Underfloor insulation keeps our feet warm and saves an incredible amount of energy.
Keeping underfloor areas well-insulated will make your living spaces more appealing and available for use year around.
Find out which house insulation materials are most appropriate, how much insulation you should install, and installation methods to make your home even more energy efficient. Visit the page Underfloor Insulation for more information.
---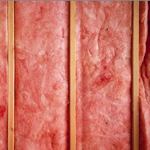 Cavity Wall Insulation
Cavity Wall Insulation is one of the largest and most widely used insulation locations in today's modern homes. In this category there are many insulation types to consider, and even more methods to boost your insulating R values.
We will discuss insulation types, methods of installation and wall construction assemblies. Only certain insulation types are appropriate for cavity wall installation - find out which ones may be right for you in this informative article.
Visit our page on Cavity Wall Insulation and get all of the the facts.
---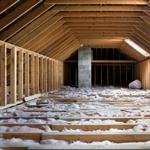 Attic Insulation
Attic Insulation is probably the most utilized insulation in new and existing homes. A well-insulated attic space is critical to keeping living spaces comfortable year-round without breaking the bank on energy costs.
There are specific methods in the installation of attic insulation and improper installation can lead to problems. Most of these problems are associated with incorrect moisture barrier techniques and the lack of proper ventilation strategies.
We will share with you the proper insulation types and installation methods in the article Attic Insulation.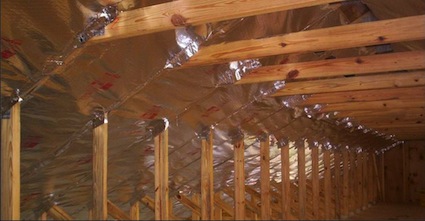 Another commonly-used material in attics is a Radiant Barrier. Radiant Barriers work by blocking the radiant energy that passes through the roof to the surfaces in the attic, thus keeping attic temperatures lower. This in turn helps reduce cooling costs in the home. See our article on Radiant Barriers HERE.
---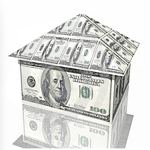 Insulation Prices
In this article we will examine basic pricing of the most popular and effective insulation types.
Comparisons will be made of material prices and installation pricing. Also aged R value is an important aspect to consider when shopping for insulation and we will compare those values and give you information as to how it relates to the final, installed cost of the insulation type that you choose.
Find out the costs related to insulation in our article Insulation Prices.
---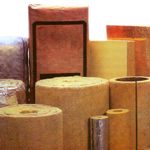 Rockwool Insulation
Rockwool in a great insulation product to consider when shopping for attic insulation. Find out what makes this product such an eco-friendly option to keeping your house well insulated along with keeping your family and the workers installing the product healthy.
Couple that with great a great payback value and easy installation, and you will understand why this product is so exciting. We really like all of the aspects of using rockwool and you should find out why you should strongly consider placing this insulation in your new home construction, or remodeling project.
Learn more about this type of house insulation in our Rockwool Insulation article.
---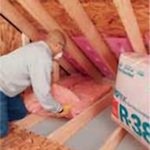 Batt Insulation
Batt Insulation, also called Blanket Insulation is typically made from fiberglass fibers and is the most predominant insulation type in the industry, encompassing over 90% of home installations.
There have been significant advances with regards to the green-friendliness of this product over recent years. Find out why the new fiberglass insulation should be something you consider in the green planning of your home.
Learn more about this type of house insulation in our Batt Insulation article.
---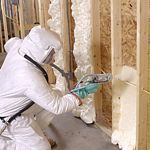 Spray Foam Insulation
Another of our favorite types of house insulation is Spray Foam Insulation. There have been many significant advancements in the spray foam insulation industry over the past several years bringing this type of house insulation to the forefront as one of the most energy efficient and eco-friendly choices available to the homeowner today. For a more organic and what we feel the most appropriate insulation, take a look at Soy Foam Insulation.
Learn more about the reasons you should consider this insulation type for your new home in our Spray Foam Insulation article.
---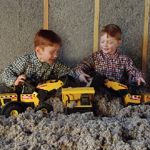 Blown Cellulose Insulation
There are a lot of great things that can be said about Blown Cellulose Insulation. It is recycled from old newspapers, completely toxin-free, healthy for the insulation installers and the homeowners alike and is a very cost-effective option to boot!
Find out why this is a very environmentally-friendly product, and an insulation option that you will want to give serious consideration when you are shopping for your new home insulation.
Learn more about this product in our page on Blown Cellulose Insulation and see why Green Home Sources is so excited about this great green product.
---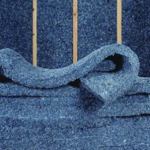 Cotton Insulation
How could we have a entire site promoting green home construction without considering one of the most eco-friendly house insulation products of all time? Yes, cotton insulation has it all. It is a recycled product utilizing the pre-consumer recycling method of recycling.
We also love this insulation because it is one of the safest insulation's for both the installation contractor and the home occupants, plus it has a high insulation value to make it even more appealing.
Learn more about this house insulation in our article on Cotton Insulation.
---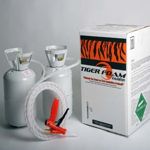 Spray Foam Insulation Kits
Details, details - that is what this article is all about. Find out what these great kits are and how they can be used to give you an even higher degree of insulation. There are a lot of 'energy leaks' that can be addressed in new and existing home construction with these house insulation products.
This kits are very easy for the average homeowner to use to address those nasty energy leaks that can save you a lot of green, all the while being green. Don't discount these as only useful for retrofit of existing homes either. Feel free to use these great kits in new home construction to fill in small, inaccessible areas where other insulation cannot go.
Learn more about it in our article on Spray Foam Insulation Kits where we will give you a wealth of information and product recommendations.
---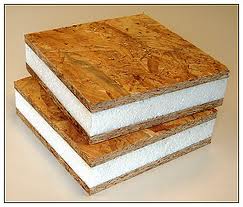 Structural Insulated Panels (SIPs)
One of the key aspects of green home design is minimizing air infiltration. in a traditional, stick-framed home, this is done with wall and attic insulation. The problem is that this insulation doesn't completely prevent the thermal bridging that occurs wherever there is a wall or ceiling stud.
Structural Insulated Panel, or SIPs, are a newer form of wall system that consists of a thick foam core covered on either side by woodboard. This "insulation sandwich" is very strong, and very very energy-efficient. Homes built with SIPs often require 50% less energy to heat and cool than traditional stick-framed homes.
SIPs are built in a controlled factory environment, so they drastically cut down on construction waste at the building site. To read more about this exciting building product, read our Structural Insulated Panels article.
---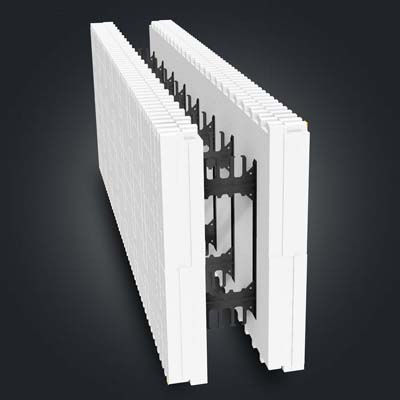 Insulated Concrete Forms
Insulated Concrete Forms (ICFs) are a superior wall system; through the use of strong foam boards and steel-reinforced concrete, they form strong, highly-insulated wall structures. ICFs can reduce energy usage in the home by 50 to 70% compared to wood-framed homes. The high thermal mass of ICF walls reduces drafts in the home, provides outstanding soundproofing, and protection from fire and natural disasters.
To learn more about Insulated Concrete Forms, click HERE.
---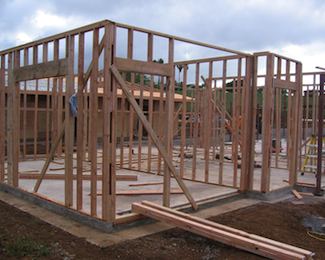 2x6 Stud Framing
There has been some debate recently over whether the use of 2x6 studs instead of 2x4's in new home construction is more energy-efficient.
The use of 2x6 studs often allows for deeper layers of insulation, which can increase the efficiency of the home.
Click on this link to get more in formation on using 2x6 Wood Studs for your exterior wall framing.
---
comments powered by

Disqus