Asphalt Shingles
Asphalt shingles are by far the most common type of roofing material used for new homes in the U.S. There are several advantages to using asphalt shingles, but for those wanting an environmentally friendly roofing material, there may be greener alternatives.
Advantages of Asphalt Shingles
Maintenance: Asphalt shingles require little upkeep to maintain their appearance, and can be easily repaired if damaged.
Installation: Asphalt shingles are the quickest and easiest roofing material to install, and are compatible with many roof designs.
Appearance: Asphalt shingles are available in a huge variety of colors, making it easy to find the right style to match your home. Asphalt shingles can also be made to look like cedar shakes, wood, or tile roofing materials at a much lower cost.
Price: Being the most-used type of roofing material, asphalt shingles are a high volume item, and inexpensive to manufacture. Asphalt shingles are also typically cheaper to install than other types of more labor-intensive roofing materials.
Lightweight: Some other roofing materials, such as clay or concrete tiles, are quite heavy and may not be viable choices for some roof types. Asphalt shingles are lightweight, and suitable for most roofs.
Asphalt Shingles: The Environmental Drawbacks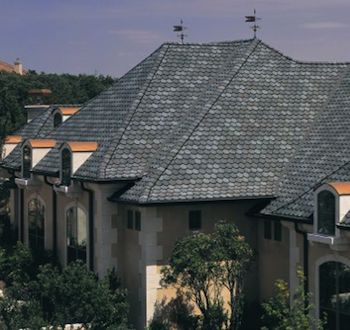 CertainTeed Carriage House Asphalt Shingles
While asphalt shingles have many advantages to their use, they do have some negative qualities when looking at their environmental sustainability.
Non-renewable: Asphalt is a refined residue that is distilled from crude oil, which is a non-renewable resource. In shingles, it is used to saturate a fiberglass or paper shingle, creating a waterproof base which is then coated with adhesive and embedded with ceramic granules.
Toxic Adhesives: Most adhesives used in asphalt shingles contain high levels of volatile organic compounds (VOCs) which can make their way into the living area and can compromise indoor air quality.
Low recyclability rates: Although they can be recycled into things such as road beds or even fuel, asphalt shingles are typically not recycled when they reach the end of their life span, which is usually 15 to 20 years. This makes asphalt shingles very energy-intensive to produce, as new shingles are needed to replace old shingles, which in turn end up in landfills. It is estimated that 75% of roofing costs in the U.S. is spent replacing or repairing existing roofs.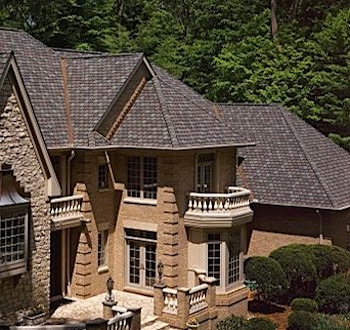 CertainTeed Centennial Slate Asphalt Shingles
Asphalt Shingles in a Green Home Design
Due to the environmental impact of manufacturing and disposing of asphalt shingle waste, they can hardly be described as 'green' and we recommend avoiding them. However, with their positive attributes (low cost, installation ease, relative durability, appearance) you may want to use them as a roofing material for your green home. These things are, after all, a matter of personal choice.
Asphalt shingles are a huge source of roofing waste when they reach the end of their life spans, so if you do use them, consider using a heavy-duty shingle with an extended life. Shingles are available with 30 year or greater warranties, which will reduce the number of times the roofing material will need to be replaced.
To avoid any possible health issues with high VOC shingle adhesives, seek out shingles using water-based adhesives instead of those using solvent-based adhesives.
Some asphalt shingle manufacturers are using recycled content in their asphalt shingles. There are shingles available that use 100% post-consumer recycled paper waste and/or some recycled asphalt material.
Asphalt shingles with some or all of these green aspects will probably cost a bit more up front, but the environmental benefits and longer durability will pay for themselves over time.
If building green is important to you, it's crucial to work with your contractor and home designer to formulate a plan and build a home that not only meets your personal criteria for a living space, but also reflects your desire to live in a home that minimizes its impact on the earths' finite resources.
comments powered by

Disqus