Reclaimed Wood Flooring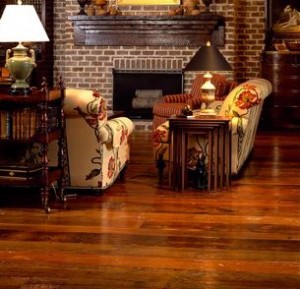 Reclaimed Wood Flooring
When we reclaim wood for the use of wood flooring we actually preserve the past while creating beautiful floors that become part of our new homes for generations to come. Wood is a natural resource, and when we reclaim old wood from an existing building or structure we are not only recycling, but we are also extending the life of this natural resource. We also keeping waste from demolition projects out of landfills, and we reduce the need for additional harvesting of trees.
If you are considering installing new hardwood flooring in your home, be sure to add reclaimed wood flooring to your list.
What Is Reclaimed Wood and Where Does Reclaimed Wood Flooring Come From?
Reclaiming wood is a process involving the specific dismantling of wood building components for future use. It is the alternative to the fast and inexpensive method of implosion or 'wrecking-ball' style of demolition. Skilled companies and their workers carefully dismantle old industrial buildings, barns, bridges, or other types of old buildings and preserve the the beams, posts and floor joists or any other usable wood in the building.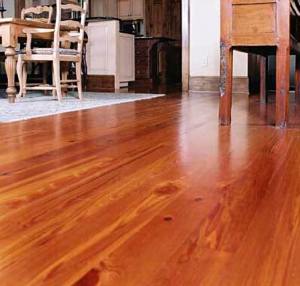 Reclaimed Wood Flooring
The process of reclaiming wood makes use of existing wood materials that have outlived their usefulness and would otherwise be demolished, dumped or left to decay.
By recycling this precious material there is a significant positive environmental impact because we divert waste from the landfill.
Companies then take this reclaimed wood, repair it, mill it down, and produce many types of reclaimed wood flooring planks ranging in varieties of Chestnut, Oak, Pine and Maple.
Companies take this old wood and mill and repair it and manufacture floor planks that are then re-used in existing and new homes and buildings.
There is a wide variety of wood varieties that are available, as well as wood finishes which offer fantastic options to almost anyone.
Why are Reclaimed Wood Floors Green?
The simple answer is this; we are diverting waste from the landfill, preserving a natural resource in old growth wood, and recycling building materials for use in new buildings.
It gives new life to an old product and in some cases, it is only through reclaimed old wood that we have species like Chestnut and Elm which were both wiped out by blights in the early parts of the 20th century.
And because reclaimed wood was produced from old growth trees the wood is much stronger and more durable than products produced today.
The Beauty of Reclaimed Wood Flooring: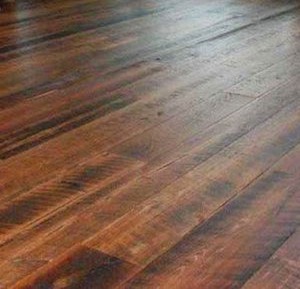 Reclaimed Wood Flooring
There's nothing like the beauty found in reclaimed wood. Old growth trees cut over a hundred years ago offer superior stability, rich wood grain, and many times signs of its previous life including staining, bolt holes and insect tracks.
Many times reclaimed wood flooring can be found with scattered nail and spike holes along with some original saw marks. It also preserves a piece of our nation's history. By using reclaimed wood flooring you could be reusing part of a building that was built around the turn of the century.
What will it Cost You:
Reclaimed wood flooring costs vary depending on the species of wood you select and the grade and level of finish. It is very similar to the costs associated with new or traditional wood flooring. It is most likely that you will not pay any more for reclaimed wood than you would for new hardwood flooring.
Most reclaimed wood flooring is priced according to the signs of aging or distress found in the wood. The highest grade planks, and the ones that cost the most are usually found with very few signs of aging or distress. And in turn, the ones that contain heavy nail hole patterns and frequent knots are usually less expensive.
Prices range from between $3.50 and $7.00 a square foot depending on the factors noted above. But do not be surprised to find some outstanding and very beautiful selections of reclaimed wood flooring starting at $10.00 to $12.00 a square foot.
Considerations of Reclaimed Wood Flooring:
Make sure that when you select your finish products and stains for your reclaimed wood flooring, you use no or low VOC products. Use products and finishes that are water-based and UV cured or a natural oil, glues that are non-toxic, and all with low VOC emissions.
Also, if possible, see if you can find out where the original wood came from. Ask questions like, "What was produced or manufactured in the building the wood originally came from?", "Were there toxins or harmful chemicals that might have been absorbed into the wood?".
Then remember that this is a reclaimed material. There are bound to be marks of imperfections because this wood has been used before. Just consider these marks, marks of beauty character that can only be found in reclaimed wood flooring.
comments powered by

Disqus