LEED Certification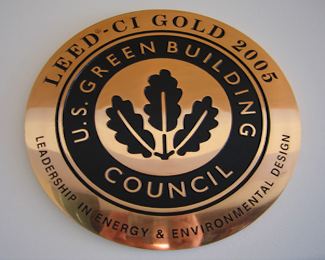 LEED Certification by USGBC
As mentioned in Part One, LEED certification is a rating system to measure just how green a home is. You can think of LEED as a scorecard, counting up all of the ways your home is saving energy, money, and the environment.
The Levels of LEED Certification
LEED sets clear targets for a green home, then tracks its progress throughout the design and construction process. Once the home is finished, thoroughly inspected and tested, the LEED seal of approval is hard-won proof of its energy-saving and environmentally-friendly performance.
LEED has several levels of certification; Certified, Silver, Gold, and Platinum. Homes with higher scores within the LEED rating system will earn a higher certification level. It is important to remember, however, that due to the strict and difficult certification process, a LEED home at any rating level is a very efficient, superior green home. The higher levels are for homes that truly go above and beyond for extraordinary performance.
LEED awards points on a 100-point scale; the credits are weighted to reflect their potential to affect environmental impacts. Any home project must satisfy ALL prerequisites and earn a minimum number of points in order to be certified. In addition, bonus points are available which address environmental issues crucial to specific regions.
What LEED Certification Measures
LEED promotes efficiency and sustainability by using a whole-home approach, and considers a home's performance in several important areas:
Sustainable Site: Encourages minimizing impact on ecosystems and waterways, regionally appropriate landscaping, stormwater runoff control, erosion control, and construction pollution.
Water Efficiency: Encourages smart use of water in and out of the home through efficient appliances and fixtures, as well as landscaping that minimizes water usage.
Energy & Atmosphere: Encourages many energy-saving strategies including efficient design and construction, efficient appliances and lighting, and the use of clean, renewable energy sources.
Materials & Resources: Encourages sustainable products and materials as well as the reduction of waste generated during construction through reuse and recycling.
Indoor Environmental Quality: Encourages practices that improve indoor air quality, access to natural light, and noise reduction.
Locations & Linkages: Encourages building on previously developed sites away from environmentally-sensitive areas, and nearer to existing infrastructure, transportation, and open space for outdoor activities.
Awareness & Education: A green home requires educated homeowners. This category encourages builders to provide homeowners with the education and tools necessary to understand their home's green features and how to maximize their performance.
Innovation in Design: Home designs that feature innovative technologies or strategies that improve the home's performance beyond what is required by LEED credits or account for green building attributes not identified in the LEED rating system earn bonus LEED points. Home projects that include a LEED Accredited Professional on the design and building team as part of a holistic and integrated approach to the entire process are also rewarded bonus points.
Regional Priority: USGBC regional chapters identify important local environmental issues, and additional LEED credits are available for projects that address these issues in their design and/or construction.
The LEED rating system is complex, and certification is difficult; the list of items covered is incredibly long and detailed. If you are considering building a green home and want it LEED-certified, it is imperative that you work with the right people from the very beginning. Home designers and builders who are certified in the LEED program have the experience, knowledge, and tools necessary to guide your new green home through every step of the LEED certification process. We will look at how to get started with LEED more closely in our next article.
Once your new green home undergoes the vigorous third-party inspections and verifications, its LEED certification will be the rock-solid proof that it operates with lower operating costs, conserves energy and water, reduces waste, is healthier for its occupants, and reduces greenhouse gas emissions and other pollutants.
comments powered by

Disqus