Energy Star Homes - The Mark of Efficiency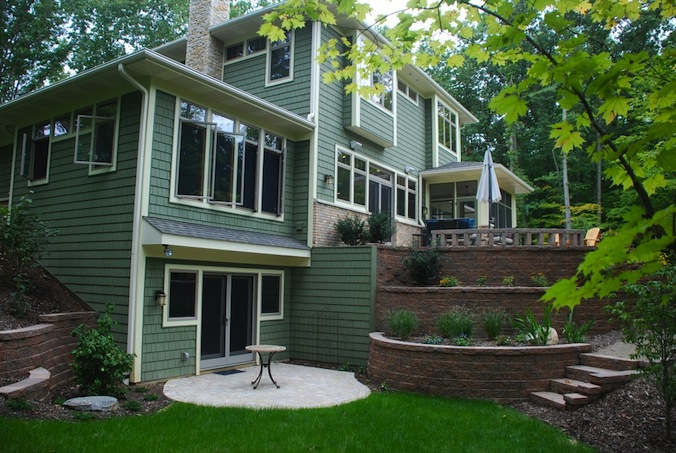 A GenOne Architectural Group Energy Star Home:
'The Ravine'
Energy Star Homes "protecting the environment for future generations by changing to more energy-efficient practices and products today." -US EPA-
All about ENERGY STAR Homes
The Energy Star label was created by the U.S. Department of Energy and Environmental Protection Agency as an easy way for consumers to identify products such as appliances and electronic devices that achieve high standards for energy efficiency.
For those interested in building an energy-efficient green home, the Energy Star label can give you the confidence that your new green home is going to achieve a high level of energy efficiency, and lower utility bills.
A new home is likely the biggest investment you'll make in your lifetime. With the Energy Star label, you can build the home of your dreams, with all of the conveniences and features available today, with the peace of mind knowing that it's also going to meet strict energy efficiency standards set by the EPA.
Building a green home is the right decision for you, your family, and the health of the planet. An Energy Star certified home guarantees these very important benefits:
Lower Utility BIlls With Energy Star Home Plans
Energy Star homes use less energy for heating, cooling, and water heating. Energy Star homes will save approximately 20-30% on annual utility bills compared to a similar new home. This reduced energy usage can save approximately $200-$400 a year in energy costs.
Superior Performance
An efficient Energy Star home not only saves money and energy, but also provides a more comfortable, healthier living space. Temperatures in the home will be more consistent between rooms; indoor air quality is improved by reducing dust, pollen, insects, and high levels of humidity. Appliances and utilities throughout the home are Energy Star compliant, ensuring energy savings and overall higher quality and reliability.
Environmental Protection
If you're looking into building a green home, chances are good that you are concerned about the environment, and are looking for ways to lower your personal environmental impact. Energy for our homes often comes from burning fossil fuels, which leads to air pollution and climate changing gasses. An Energy Star qualified home uses less energy to operate, giving it a much smaller environmental "footprint."
How a New Home Earns the Energy Star Label
In order to be Energy Star certified, a home must meet a set of guidelines for energy efficiency set by the EPA to make it 20-30% more efficient than a similar standard home. A home meets these standards with a number of energy-saving improvements, including:
Super-tight construction and ductwork: Sealing holes and cracks in the home's thermal envelope and ductwork reduces drafts, moisture, dust and pollen; a tightly sealed home improves air quality and comfort while reducing energy use and maintenance.
Energy Star-qualified lighting and appliances: Qualified lighting and appliances further increase the home's overall efficiency. Items include compact fluorescent or LED lightbulbs, kitchen appliances, washing machines, fans, etc.
To gain Energy Star certification, a home must be inspected and verified by a third-party certified Home Energy Rater. The Rater works with the builder throughout construction to ensure that all equipment and construction techniques qualify for the Energy Star label. This is done through onsite diagnostic testing and visual inspection.
Every Energy Star-certified home must be built by an builder who has a partnership with Energy Star. Through this partnership, the builder must select a Home Energy Rater to work with them and independently verify the Energy Star guidelines. Energy Star partner builders must build at least one Energy Star-certified home a year; it's important for homeowners to carefully choose their builders and to make clear their goal of an Energy Star home at the very earliest stage of planning.
Green Home Source is a proud Energy Star partner, and we work hard to ensure that all of our home plans are designed to be built to achieve the energy-efficient Energy Star label.
Only after the Home Energy Rater has completed all the necessary on-site verifications and inspections to determine that all requirements have been met can a home be certified as Energy Star compliant. At this point, an Energy Star label will be placed on the home's circuit breaker box, a homeowner's proud symbol and the documented proof that their home is energy efficient. The Energy Star label will contain the home's address, the builder's name, the Energy Rater's name, and the verification date. Depending on the builder, a paper Energy Star certificate or copy of the Home Energy Rating report may also be provided.
comments powered by

Disqus