Concrete Countertops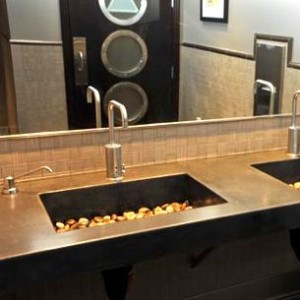 Concrete Countertops - Bathroom Application
The market for concrete countertops has grown dramatically in recent years. Concrete countertops have the ability to be made into just about any shape, style, or color.
A concrete countertop can never be duplicated so each one is unique unto itself. If you can think it, a concrete countertop can be formed to it. It truly is a beautiful and versatile product.
Adding Color to Concrete
Part of the uniqueness of concrete countertops is that they can be any color. The color possibilities are endless. The number of different products for coloring concrete is extensive, and most manufacturers offer a wide variety to choose from.
The three most common coloring agents are acid stains and dyes, integral color (or pigments) and dry-shake color hardeners. Remember to ask before you select the type of coloring you wish to use. The location of your concrete countertop may have an impact on what type of coloring agent you select.
Installation: Precast or Cast-in-Place Countertops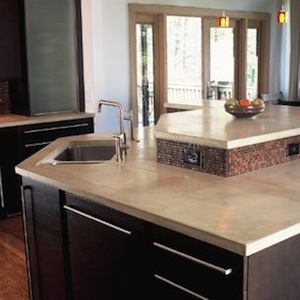 Concrete Countertops - Kitchen Application
In most cases people either pick one or the other, but some do both. There are two basic ways that a concrete countertop can be installed in your home. The first is the pre-fabricated or pre-cast method.
This method has the pieces of concrete formed and made in a shop off site. After concrete is poured and allowed to cure, it is then delivered to the site for installation. In most cases this may be the best choice because you will receive a better end product due to quality control with the elimination of job site uncertainties.
The second way is to actually have the concrete formed right in the final location. And remember to be patient. Usable strength for concrete is reached in 10 days, but it does not reach full strength until 28 days. With this method a shop is not required and your final product usually will not need a seam.
The Importance of Sealer
Concrete counter tops must be sealed to make sure they are protected from stains, heat, scratches and etching. Staining can easily happen with several very common materials.
Mustard, coffee, ketchup, vegetable oil and red wine can easily stain an unsealed surface. Common household substances like vinegar, dish soap, bleach and lemon juice are able to dissolve the cement paste and etch the surface. A properly sealed concrete countertop needs to resist both staining and etching materials.
In the past, the only sealers available on the market were sealers like acrylics and wax. But because of advancements in technologies there are more products available today. Sealer manufacturers are seeing demand increases and additional concrete countertop sealers are new being provided.
Top 10 desired characteristics for a sealer:
Insure the surface is a non porous surface
Resist the potential of staining from foods and oils
Be scratch-proof
Safe surface for food preparation (and environmentally friendly)
Heat-resistant (from pots, pans and oven dishes)
Easy to clean and maintain
Resists fading or yellowing (UV resistance)
Resists etching from acidic household materials
Requires no maintenance and does not need to be reapplied
Inexpensive, easy to apply
The above list would be the ideal sealer. Unfortunately, this all in one ideal sealer does not exist. It is important to have the best sealer for application the counter will be used. If you are installing a kitchen concrete countertop, select the sealer that is best for that location. (stain, heat & scratch resistant) If you are installing one in a bathroom, use the best for that, and so on.
How Long Does Concrete Last?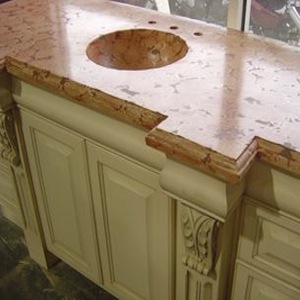 Concrete Countertops - Lavatory with Cast Basin
It is true that concrete countertops are durable and long-lasting. In fact, they may even outlast the home they are installed in. Many other countertop options are seemingly less expensive than concrete.
However, a concrete countertop will last longer and eventually give you a better return on your investment. When you look at the cost of a concrete countertop over a lifetime, the price can be comparable or even lower than other high-end surfacing materials.
Concrete countertops rarely if ever need replacement, especially if properly installed and maintained. They also have the advantage of being fire proof, an advantage for their use in kitchens.
Are Concrete Countertops a Do-it-Yourself project?
Unless you are very handy and skilled in art of form making and finishing of concrete, no, this is not generally a do it yourself project. Although the cost of the material is relatively expensive, the time and effort it takes to construct the wood forms on site is tremendous. It also takes a bit of skill to create these custom shapes.
And because the finishing, coloring and sealing of the concrete is such an important part to the longlasting durability and beauty of the product, concrete countertops are well served to be installed by a professional.
Things you should know about concrete countertops :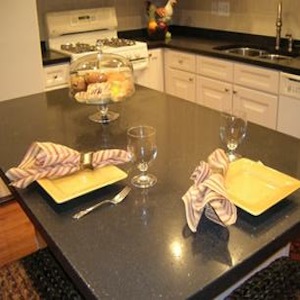 Concrete Countertops - Kitchen Island
The use of knives or sharp utensils directly on the concrete countertop should be avoided. Some counter tops, like wood, are meant to be cut on directly. While concrete itself is able to handle direct cutting, it is the sealer that is not able to.
Cutting should be done on a cutting board so the sealer will not be compromised.
Cracks may form and be seen in the final surface of the concrete. These cracks are a natural occurrence for concrete but really do not affect the strength of the material.
Installed properly and maintained with care, a concrete countertop will last for decades, an important factor for any materials used in a green home.
comments powered by

Disqus