LEED For Homes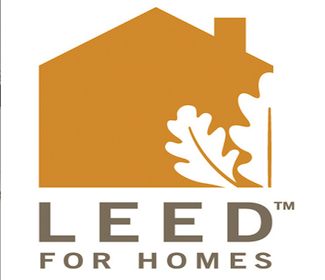 LEED for Homes Certification
LEED (Leadership in Energy and Environmental Design) is a rating system created by the U.S. Green Building Council to promote the design and construction of highly-efficient green buildings, including homes. LEED certification is the leading standard for green buildings in the U.S. today; the same standards that are being used to create and build some of the most energy efficient buildings in the world can also be used to ensure your home is as green as possible.
What is LEED for Homes?
LEED is a voluntary rating system used by home designers, builders, and homeowners to measure qualitatively exactly how green and efficient a home is.
For designers and builders, LEED is a powerful tool to measure the efficiency and sustainability levels of a home against the marketplace. For homeowners (and buyers), LEED is a highly-accurate scorecard that clearly identifies each and every way a green home is more efficient, sustainable, healthy, and of high-quality construction.
Most of all, a LEED for homes certified home is a reliable seal of quality. If you are interested in a green home, LEED provides definitive peace of mind that the home you are building or buying is designed for maximum resource efficiency and healthy living.
A LEED Home is a Better Home
Homes that qualify for LEED certification are superior in four important ways:
Health: LEED homes are designed and built to provide a healthy indoor environmental for you and your family, with superior fresh air circulation and minimal air pollutants.
Savings: Any green homeowner wants to have a lower environmental footprint. LEED homes by definition will use less energy and water, therefore saving you a great deal of money over time.
Value: LEED certification will add value to your home. Data shows that LEED buildings often sell at a higher price, and in much less time, than traditional, non-green buildings.
Peace of Mind: A LEED certified home has been inspected, tested, and approved by the U.S. Green Building Council professionals, giving you the confidence and assurance that your LEED home will perform at a high level of efficiency and reliability. Building a green home to be LEED-certified is definitely not taking the easy route to a new home, but the LEED green stamp of approval will be worth it.
LEED vs. Other Green Building Programs
There are several green building programs available for home, including the Energy Star Home Program and the NAHB National Green Building Standard . All green building programs are worthwhile in that they offer sold proof of a home's green attributes. A home can be certified by more than one green building program, if the homeowner wants to go through the qualification process (and cost) for them, but typically just one program is used.
What makes LEED for Homes certification different? For one, it is the most established green building program in the nation. It is also considered the most difficult certification to achieve, for two reasons:
Comprehensive: Instead of focusing on one area, or several areas separately, LEED for homes are assessed as a whole structure. A LEED for homes structure must be green in every way. Every aspect of a home is taken into consideration: energy, water, indoor air quality, types of materials used, land use and landscaping, and homeowner education on the home's green features.
Rigorous: LEED is not the easiest way to build a green home, and not every green home will achieve LEED certification. LEED's 'whole house' requirements are difficult to meet, and every home is thoroughly inspected and tested to make sure it meets every requirement. With LEED for Homes, there are no exceptions or shortcuts. A home will either be LEED certified, or not. There's no in-between.
In our next article, we will look at the different levels of LEED certification, the LEED for homes whole-home philosophy, and how to get started if you're serious about building a LEED Home.
comments powered by

Disqus