Roof Windows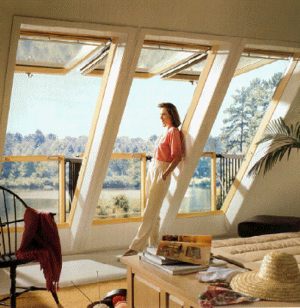 Roof Windows -
Velux Cabrio Unit
With Egress Rating
A roof window offers all of the same features as a regular skylight window, but offers the additional advantage of being able to be opened and closed like regular windows.
Being able to open a roof window offers a couple of benefits:
it allows captured heat which rises into the window well during the warmth of the day to be released, and it also allows for cross-ventilation of the space below.
Allowing cool breezes to flow through the open roof window into the home can reduce the need for air-conditioning.
Roof Windows - Available Options:
There are several options that are available to the consumer and one of the best things about roof windows is that they have the capability of eerily ventilating a space.
Roof Windows - Crank Open Operation: The least expensive, simplest and most care-free option for window operation is the hand-crank option.
Usually the crank is located on the lower portion of the rood window, permitting easy access. If the window is located above the normal reach of the homeowner, there are telescoping crank rods available, so the window can easily be opened and closed while standing on the floor below.
This option is great if you only have just a few roof windows in your home and they are quite easy to access.
If however you have multiple banks of roof windows, or the roof windows are located very high up and barely accessible with the hand crank, you will want to explore using the next option.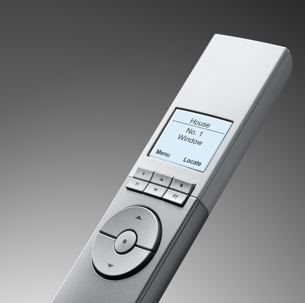 Roof Windows -
Velux Electronic Controller
Remote Electrically Operation Option: Velux offers this feature for most of their roof windows.
The controller easily opens and closes the window with the push of a button.
The controller is programmable and you can operate entire groups of windows with a single controller.
Additionally, if you chose to use electrically operated shades or blinds, they can also be operated with this same controller.
Roof Windows - Egress Window/Balcony Options: Do you have an unusable space above a garage or in the attic, that does not have any windows or exiting capabilities?
The Velux GDL Cabrio meets this criteria by creating a balcony upon its opening, thus turning otherwise unusable spaces and attics into great feeling bedrooms and bonus rooms, creating extraordinary living space that embraces the outdoors.
Proper Installation of Skylights and Roof Windows
To maximize the energy efficiency benefits of a skylight or roof window, and eliminate any problems associated with rooftop windows, it is imperative that they be installed correctly. Water leaks are a common problem with skylights and roof windows. Installing skylights and roof windows with a raised watertight lip and flashing will help divert water way from the skylight. Caulking and roof cement should not be used for skylight and roof window installation.
An experienced contractor will make sure that the skylight or roof window on your green home is installed properly for years of carefree and energy saving usage.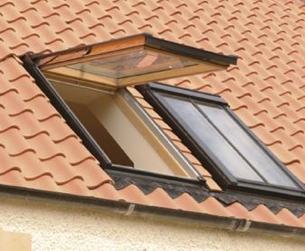 Roof Windows -
Velux Ganged Units
Roof Windows - Locating the Units:
Because Roof Windows have the ability to introduce fresh air into occupied spaces,this opens up a lot more possibilities in the home where you may want to introduce fresh air and ventilation options. Since cooler air can be introduced through lower operable windows, the warm moist air will exit through the high roof windows. This is known as a thermal siphon and is a technique used to naturally air-condition your home. Locate the windows in cathedral-type ceilings, if possible and locate the roof windows at the highest point in the room to take full advantage of the air flow.
Additional areas that are ideal for a Roof Window applications are rooms that develop a water vapors and high humidity. Typical rooms include bathrooms, kitchens, and laundry rooms. Kitchens can additionally benefit from the roof window ventilation feature to evacuate cooking odors and minimizing the use of mechanically operated exhaust fans.
Roof Windows - What We Recommend:
We feel that the best Roof Windows on the market today are manufactured by Velux. Their flashing systems are the best in the industry and with proper installation, you will have many years of trouble-free service from their products. Also Velux has developed numerous options that improve the usability of their units such as remote opening operation, electrically operated shades and blinds and egress options that can turn otherwise dead space into dynamic living areas.
Further, Velux units are constructed of maintenance-free aluminum exteriors and stainable or paintable interiors. Their warranty is great and the flashing systems are unsurpassed in the industry.
comments powered by

Disqus