Green Built Michigan Certification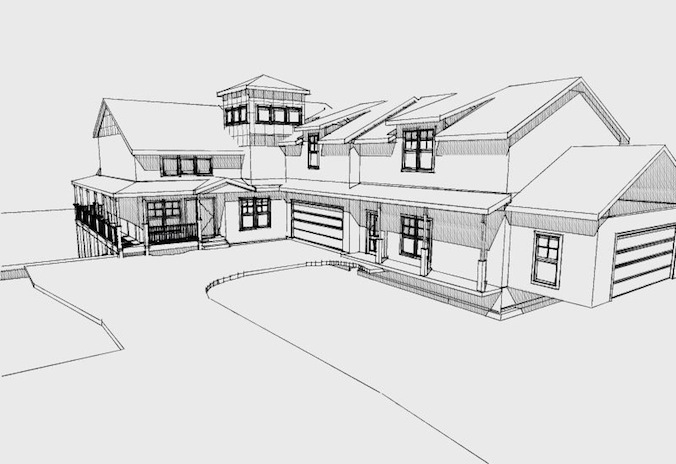 An increasing number of homeowners in Michigan are excited about building green, efficient, and sustainable homes. The Green Built Michigan certification program was created to allow owners to partner with designers and builders who share their passion for green building and build a green home of their own.
Green Built Michigan is a 501 (C) (3) organization created to promote the construction of high-quality sustainable homes. By creating a series of strict guidelines for design and construction, Green Built Michigan ensures that homes meeting the criteria are as efficient and sustainable as possible.
The areas that Green Built Michigan focuses on are: site management, waste recycling, water efficiency, indoor air quality, energy efficiency, sustainable materials, and homeowner education.
Green Built Michigan began in 2000 by the Home & Building Association of Greater Grand Rapids as one of the first green certification programs in the nation. The program was expanded statewide in 2006.
Building Green with Green Built Michigan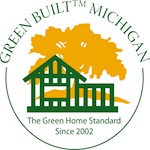 The Green Built Michigan program consists of the following components which all homes seeking certification must include:
- Energy-Efficiency: Energy Star rated appliances, windows and water heating systems; efficient lighting fixtures and bulbs; Green Built Michigan homes may also integrate renewable energy sources to further reduce dependence on polluting fossil fuels.
- Water-Efficiency: All fixtures and appliances must be efficient, including low-flow shower heads, faucets and toilets; Energy Star dishwashers, washing machines, and dishwashers; programmable low-volume irrigation systems; homes may also use rainwater collection systems, greywater systems, and hot water recirculation systems as ways to further increase water savings.
- Resource-Efficiency: Design aspects of the home including home size, orientation on lot, floor plan, etc. are all made to take advantage of natural systems (such as natural daylight and passive solar heat) to reduce the use of fossil fuels; Green Built Michigan homes should be built using renewable materials whenever possible, as well as post-consumer recycled materials.
- Indoor Air Quality: Includes using appropriately sized heating and cooling systems for efficiency and ventilation. The home should cycle fresh air into the home and expel stale air to reduce pollutants and other airborne irritants. The use of low-VOC paints and other finishes are used to reduce and eliminate VOCs that can harm the health of occupants.
- Outdoor Considerations: A Green Built Michigan home is built in such a way that trees and other native vegetation is preserved; landscape design incorporates plant species native to the area and climate and grouped according to water needs to conserve water resources. Driveways, patios, walkways and other impervious features are reduced or replaced with permeable materials.
The Green Built Michigan Certification Process
Homeowners who want a green home that is designed and built to have the least impact on the ecology of Michigan can benefit from the Green Built Michigan program. The process to gain Green Built Michigan certification is as follows:
1. Join local Home Builders Association and Green Built Michigan
2. Hire a Green Built Michigan Verifier and assemble a Builder-Verifier Team
3. Builder can utilize online pre-scoring tool at NAHB Green
4. Construction process begins
5. Verifier to complete initial inspection at pre-drywall stage
6. Verifier submits project information for listing in "Green Projects Under Construction"
7. Finish Project
8. Verifier completes final inspection
9. Verifier submits the certification checklist and all paperwork to Green Built Michigan for processing
10. Builder or verifier submit final digital images to Green Built Michigan and project information is moved into "Completed Homes" category on the Green Built Michigan website.
11. Builders receives Green Built Michigan certificate and has the option to buy a zinc Certification Plate for the home  
By creating a team that includes the homeowner, home and landscape designers, and qualified builders, Green Built Michigan ensures that every step of the process is done with efficiency, renewability, and sustainability as forethoughts, not afterthoughts.
Green Built Michigan is the official green building program of the Michigan Association of Home Builders, and is the only affiliated program in Michigan for the National Association of Home Builders Green Program.
comments powered by

Disqus