Green Building Blocks: Next Steps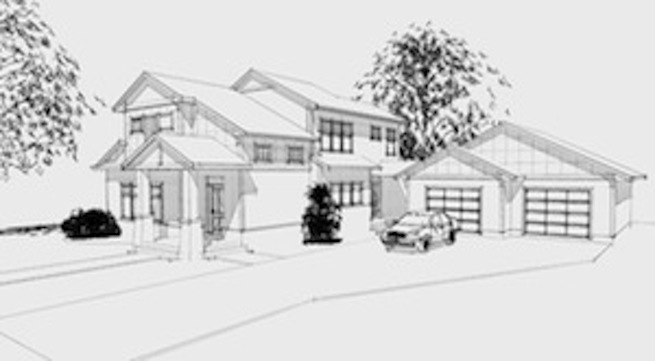 The Green Home Source Building Blocks of Green helps homeowners determine which steps to take to improve a homes' sustainability at different levels of difficulty and/or expense. Many of us don't have the upfront investment finances necessary to build or renovate a 100% green home, but our philosophy is that we all can take steps, however big or small, to make our homes more efficient.
Our base level of Building Blocks, the Foundation, identified some of the easiest, low-cost ways to make any home greener. They are the starting point for green homeowners.
Now we're ready to add the next layer of Building Blocks. These Blocks are designed to save energy, water, and materials in the long-run, but are still relatively easy for homeowners to incorporate into a home plan, or make an existing home more efficient.
Seal the Gaps
Air leakage into and out of a home is a major source of wasted energy. Some simple projects can greatly reduce air infiltration, keeping the home more comfortable year-round. Caulking around doors and windows closes the small gaps that often occur between window and door frames and the wall. Choosing an eco-friendly caulking product like
GREENChoice by Titebond
makes the job even greener. It's a small, inexpensive fix that makes any home more efficient.
In homes with older, less-efficient windows, install window film to reduce drafts. Inexpensive and available anywhere, these window insulating films can increase a windows' efficiency by up to 90%, without the huge investment in brand-new windows.
In new home construction, or homes that are getting new exterior siding, another way to make sure the air envelope is sealed is by taping down the house wrap. By taping seams in the wrap instead of stapling them, air is prevented from leaking through, ensuring the wrap is doing its job at the highest level possible.
Reconsider the Lawn
Keeping a large grass lawn green and healthy requires large amounts of water, almost half of all residential water usage in the U.S. By reducing the lawns' size, or even eliminating it altogether, homeowners can realize massive water savings. Water-saving alternatives to the traditional grass lawn are plentiful, from landscaping with native plants to watering lawns with recycled 'grey' water.
Further reading:
"Greener" Lawns, Lawn Care and Lawn Alternatives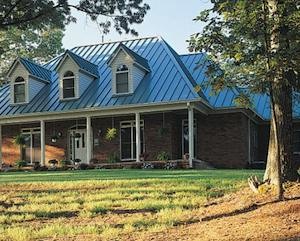 Metal Roofing Material
Build for Durability
Build or renovate your home with durability in mind. This often means paying a higher price up-front for materials, but will translate to greater savings over time. Materials that are durable and long-lasting won't have to replaced nearly as often, if ever, as cheaper alternatives. Durability keeps materials out of landfills and requires less energy to manufacture and transport materials (fewer replacements).
-Outdoor Durability
Durable roofing materials include metal, clay tile, recycled rubber, or extended-life asphalt shingles.
For a homes' siding, choose fiber cement, cedar, brick, or other long-lasting products over cheaper vinyl that can crack and fade, or wood siding that can rot over time and require frequent painting.
Further reading:
Decks and patios should be built to last with recycled plastic composite woods that never fade or require staining.
An example of durable composite decking material is TREX Transcend.
-Indoor Durability
Floors and countertops take a beating inside the home. Investing in super durable countertop materials and flooring made from tough, renewable or recycled materials like bamboo.
Further reading: Durable Green Countertops and Flooring
The Building Block process is designed to save energy, water, and money for any homeowner, at whatever level of difficulty or investment they're willing to make. The Blocks described here are the next step up from our foundation blocks.
To return to the main Building Blocks of Green page, click HERE.
comments powered by

Disqus