Window Tax Credit - 2011 Federal Tax Incentive:
Building a green home or renovating an existing home to be more energy efficient can often cost more up-front than more traditional construction. The use of Energy Star rated products will help you achieve the efficiency you desire. Energy Star distinguishes products as more energy efficient than their standard counterparts.
Energy Star products may cost more than standard products, but they will pay back the difference (and much more) in lower energy bills within a reasonable amount of time, even without a tax credit.
Fortunately, through the calendar year 2011, the federal government is offering a tax credit for certain Energy Star-qualified products. These tax credits make choosing Energy Star products more affordable than ever.
In December, 2010, President Obama signed the Tax Relief, Unemployment Insurance Reauthorization, and Job Creation Act of 2010. This law extends the energy efficiency tax credits of 2010 into 2011, however at lower levels.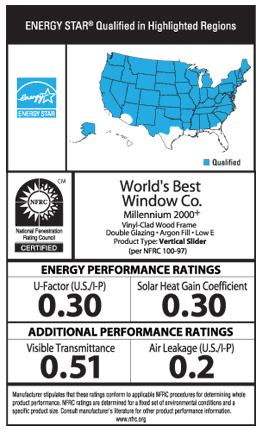 Window Tax Credit - Energy Star Label
The 2011 tax credit has a $500 lifetime limit. If you have received $500 or more in energy tax credits from 2006 to 2010, you are NOT eligible for any additional credits. The 2011 tax credit for windows is capped at $200.
The 2011 Federal Energy Tax Credit is available for items such as biomass stoves, HVAC systems, insulation, metal & asphalt roofs, non-solar water heaters, and windows & doors.
2011 Federal Tax Credits for Energy Star Windows
Energy efficient windows can greatly reduce your energy bills. If you are buying energy efficient windows, this is the important tax credit information you need to know:
As mentioned above, the 2011 tax credit for WINDOWS is 10% of the cost of the window up to $200, not the $500 for other Energy Star products. Why? Good question. This is the federal government we're talking about here.
The tax credit expires December 31, 2011.
Windows MUST be Energy Star qualified.
Tax credit available ONLY for an existing home and your principal residence. New construction and rental properties do not qualify.
Tax credits do NOT include installation costs.
You do not have to replace all the windows in your home to qualify. Replacing just one window will qualify. Installing a new window where there was not one before (like an addition to the home) will qualify.
How to Apply for the Federal Tax Credit for Energy Star Windows
To apply for any of the 2011 federal tax credits for energy efficient products, you need to fill out a special form when doing your 2011 taxes.
For windows 'placed in service' by December 31, 2011, you need to fill out the 2011 IRS Form 5695 and submit it with your 2011 taxes by April 15, 2012.
On the 1040 form, the residential tax credit (from Form 5695) is claimed on line 52.
Save all receipts and the Manufacturer's Certification Statement that will come with your Energy Star windows for your records.
Submit Form 5695 with your taxes.
comments powered by

Disqus