Types of Insulation
The right type of insulation and proper installation can greatly reduce a homes' energy usage and the corresponding pollution that goes along with it. Starting with a home design planned for energy-efficiency, choosing the right insulation for different applications in the home is a critical next step.
There are many different types of insulation on the market today; choosing the right one can seem like a daunting task. The bottom line is that any insulation installed correctly is a good thing, but the right insulation for a particular part of the home can boost efficiency to the next level.
What follows is a very brief overview of the more common types of home insulation used today, some of their advantages, and where they are best utilized in the home.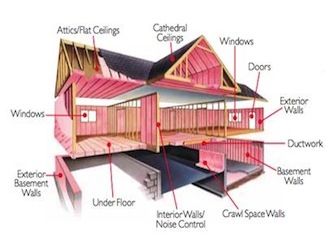 Blanket Insulation (Batts and Rolls)
Primarily made from fiberglass, mineral wool, or other natural or artificial fibers, blanket insulation is the most common form of home insulation. It's best used in unfinished walls, including foundation walls, floors, and ceilings. It is installed by fitting the blanket between wall studs, joists, and beams.
-Advantages: Ideal insulation for do-it-yourselfers. Fits well in standard stud or joist spacings that are relatively free of obstructions.
- Disadvantages: Improper installation can leave gaps between the insulation and the studs or joists, allowing for air and moisture infiltration into the living space.
We've got more information on blanket insulation right here.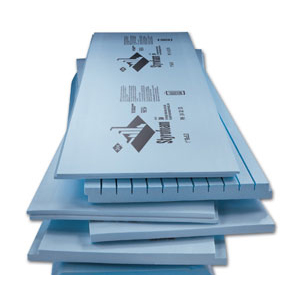 Foam Board Insulation
Foam or Rigid Form Board Insulation
This type of insulation is made from synthetic foams such as polystyrene, polyisocyanurate, or polyurethane. It's a good choice for unfinished walls, floors and ceilings, or in unvented low-slope roofs. Interior installations require the foam board to be covered with 1/2 inch gypsum board or other approved material for fire safety. Exterior installation must be covered with a weatherproof facing (which is just common sense).
- Advantages: Foam board insulation provides high insulation value in a thin package, and can also block thermal leakage when installed over frames or joists.
- Disadvantages: Not many, but some green homeowners may want to avoid the use of synthetic materials such as the foam used in foam board insulation.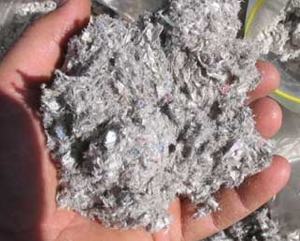 Loose Fill Insulation
Loose-Fill Insulation
Made from cellulose, fiberglass, or mineral (rock) wool, loose-fill insulation is blown or poured into place with special equipment. It's an ideal choice for enclosed existing walls, unenclosed new wall cavities, attic floors, or other hard to reach areas.
-Advantages: Loose-fill insulation is perfect for adding insulation to existing areas, irregularly shaped areas, or around obstructions, as it completely fills those spaces. Most loose-fill insulation is also made from environmentally-friendly materials such as recycled paper products.
For more information on loose-fill insulation, click
here.
Spray Foam Insulation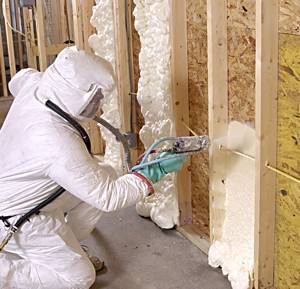 Spray Foam Insulation
Spray foam is quickly becoming a favorite due to its superior insulating qualities, eco-friendly materials, and complete coverage. Spray foam insulation can be made from synthetic materials such as polyurethane, or more natural materials like soy. It is applied by spraying into place with special equipment. It's a good choice for enclosed existing walls, new open wall cavities, or unfinished attic floors and ceilings.
-Advantages: Like loose fill insulation, it's perfect for adding to existing, irregularly shaped, or hard-to-reach areas or around obstructions.
For more info on spray-foam insulation, click here.
Flash-and-Batt Insulation
Flash-and-batt insulation is basically batt-type insulation with the added benefit of a layer of spray foam insulation installed to the home's sheathing.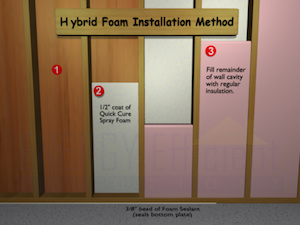 Flash-and-Batt Insulation
Flash-and-batt has all of the advantages of traditional batt-type insulation (including ease of installation and lower costs) and adds the benefits of spray-foam insulation (air leakage protection and moisture control).
Learn more about flash-and-batt insulation here.
These are the main insulation categories; you should always work with your green home designer and builder to make sure you're using the right product to create a comfortable living space with minimal energy usage.
comments powered by

Disqus