Green Luxury Home Plans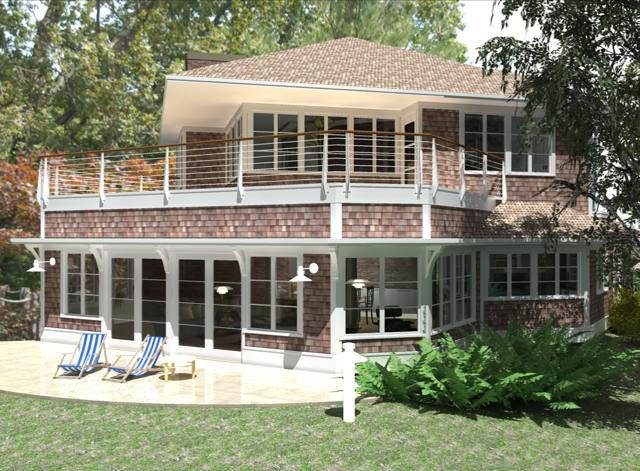 Green Luxury Home Plans
Large, luxurious homes are typically not associated with the green home movement due to their often-large size. At Green Home Source, our belief is that any home, of any size, can be designed and built to be as green as possible while still fulfilling any homes' main goal: providing the safety and lifestyle desired by its owner.
The size of a home can definitely cause it to have a larger environmental impact due to the increased amount of material needed to build it, as well as the amount of energy necessary to power it. But in todays' home market, these factors can be drastically minimized with a good design and the right materials.
Let's take a look at how we define a luxury home, then examine some of the ways a luxury home can "go green."
Green Luxury Home Plans - Cost:
The price of a home is a determining factor of whether it's 'luxury" or not. A luxury home is generally defined as a property priced within the top 5-10% of a given real estate market. In most markets that is a home with a value of more than one million dollars ($2-3 million in a few select markets).
The cost of a luxury home is primarily determined by its size. A larger home simply costs more to build and maintain. Other determining factors of a luxury home are its location, architectural style, home decor, amenities, entertainment capabilities, manicured grounds; anything that makes a home stand out from the crowd can be seen as a 'luxury' attribute.
Green Luxury Home Plans - Size: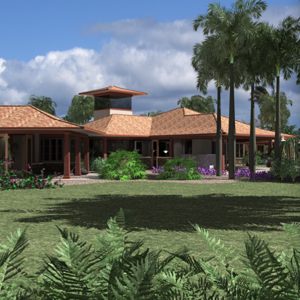 Luxury Home Plans - With A Green Touch
As mentioned, luxury homes are usually much larger than more traditional homes. The rooms are big, the ceilings are high, and there are lots of windows. Luxury homes feature spacious foyers and huge staircases. There can be three or four garage stalls with over-sized garage doors.
Other features found in luxury homes are gourmet kitchens, sun rooms, walk-in closets and large master bedroom suites complete with whirlpool tubs and separate showers. Luxury home plans can also include fitness centers, private home offices and outdoor kitchen and living areas with built-in gas fireplaces and large decks.
While homes in the luxury category are typically not ever considered green, there is always going to be a market for owners wanting the amenities provided by a luxury home, and have the means to afford them. Fortunately, advances in home design and energy-efficient and sustainable building materials makes the possibilty of a green luxury home a reality.
So How Do We Make a Luxury Home Green?
We start with a very energy-effiicient design that can include a number of different features. The main focus is to create a well-insulated, airtight home. A home, of any size, with an airtight air envelope is going to save tremendous amounts of energy and money over time.
A well-constructed, highly insulated, and air tight home that is 5000 sq.ft. in size can easily out perform a home half its size that is poorly constructed, drafty & inefficient with inadequate insulation.
We then design into the home plan the use of high-efficiency doors and windows (further enclosing the thermal envelope), appliances and heating/cooling systems, as well as water-saving toilets, showers, washers, and water faucets throughout the home.
The next step is to utilize sustainable building materials: sustainably harvested wood for framing, for example. Efficient framing techniques will also reduce the amount of material used and reduce or eliminate the amount of construction waste. The use of recycled recyclable, and rapidly renewable materials throughtout the home further reduce the homes' impacts. Any home is made 'green' not with one product or building technique, but by combining many elements, from construction techniques to efficient and sustainable materials. For a larger luxury home, placing all of these puzzle pieces together is even more important.
Many luxury homes today utilize automated technology that allows the homeowner to control systems remotely. By having the ability to control heating, cooling, and lighting systems from anywhere, these systems can be turned down or off when not in use. This type of technology is not normally found in down-market homes, but is another example of how energy usage can be controlled and minimized in a luxury home.
A green luxury home plan can also include green features that are often too costly for others to consider. Renewable energy systems like solar and wind power can greatly reduce, even eliminate, traditional energy usage in a home, but their initial cost can unfortunately limit their use by many. Homeowners with the resources to build a large luxury home can offset the homes' environmental impacts by incorporating renewable energy into its design. This not only reduces the luxury homes energy footprint, but helps to support the young renewable energy industries and driving down future costs, making them more affordable for everybody down the road.
It is true that a luxury home will usually have more square footage than a normal plan but this should not automatically exclude it from using sound green building practices or from being energy-efficient. More affluent home builders can drive the entire green home industry forward by adapting as many of these often more-expensive materials as possible into their home design.
Green Home Source is dedicated to finding ways to incorporate green principals into all types of home plans regardless of their size. . Each are different, but all homes can and should be constructed with the same green home design standards so we are all moving forward toward a more sustainable future.
We have included a few Green Luxury Home Plans in our Plan Room. You can visit the Green Home Source Plan Catalog by clicking on the link at the top of the page or by clicking HERE.
comments powered by

Disqus