Green Building Blocks: Choosing Efficient Appliances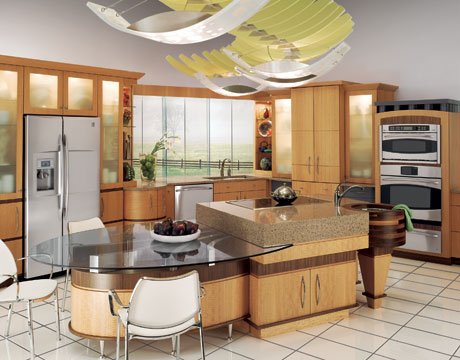 The next Block as we move up the Wall of Green Building is Choosing Efficient Appliances. Choosing the most efficient appliances is always worth investigating, but isn't necessarily always the most cost-effective way to build green.
Efficient Appliances
If you're building a new home and in the market for new appliances, now is the time to do the research and invest extra money into efficient models. The cost of the new appliances is often rolled into the mortgage of the home; the premium price commanded by most high-efficiency appliances can be absorbed without adding substantially to monthly mortgage payments.
Choosing efficient appliances fills a smaller Building Block for a reason; unless the new appliance is replacing a very old unit (which is almost always inherently inefficient), the payback period for the added cost of the new appliance can be long compared to our bigger Building Blocks. This is an admittedly generalized statement that doesn't take into account the need to quickly replace a broken-down unit (a rushed, emergency purchase), or for the wide variation in prices for new models (including things like sale prices, rebates, and other promotions).
Do Your Homework!
The bottom line: Do your research when shopping for new appliances. The first step should be to always choose an Energy Star model. The Energy Star label denotes a model that achieves a minimal level of energy-efficiency compared to other similar models. There is a wide range in efficiency (and price) within the Energy Star category; decide what you can afford in relation to how efficient the appliance is. If an appliance is much more energy-efficient than even the Energy Star standards, and its price isn't too sky-high compared to others, that's a good model to consider.
In addition to the Energy Star rating, all new appliances have a bright yellow Energy Guide tag displayed on them. This is another powerful tool to help you find the most efficient appliance at the right price. The Guide will show the energy usage of a particular model on a scale, comparing it to other similar appliances. It will also show how approximately much energy it will use and how much that energy will cost on a yearly basis. Use the Energy Guide to help you choose the perfect appliances.
All new appliances are required to display an EnergyGuide label. This is another very helpful tool for researching efficient appliances. The label will display how much energy and money that particular model will use in a a year, and compare it with other similar appliances. The further to the left on the range scale the appliances' energy usage, the more efficient it is. The EnergyGuide label will also display the Energy Star logo on models that are Energy Star certified.
If you're remodeling or renovating, you may not even need to replace appliances. It's important to take into consideration not just the price of a brand new appliance and its energy-saving potential, but also some intangible things as well. New appliances require a tremendous amount of energy, water, and raw materials to manufacture and transport; while you don't pay directly for these things, the planet does. It can take the new appliance many years to save more energy than it took to create it in the first place, let alone recoup the money you paid for it.

Finally, if you do purchase new appliances, take care of them. Well-maintained appliances almost always use less energy than those that are not. And if you're replacing an appliance, like a refrigerator or freezer, don't move the old model into the garage or basement and keep using it unless you absolutely have to. Adding to, not replacing, appliances doesn't save any energy or money whatsoever.
To read more about efficient appliances, click HERE.
To return to the main Building Blocks of Green page, click HERE.
comments powered by

Disqus