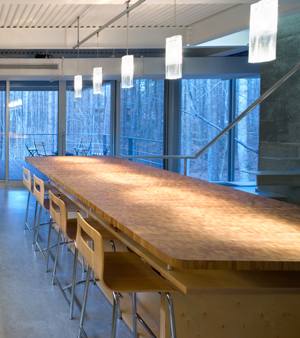 Eco-Friendly Bamboo Countertop
Bamboo Countertops
Bamboo countertops can be a notable option for anyone who is interested in replacing their current counters with a new, eco-friendly option.
There have been many misconceptions in this product over the years, and you will learn why you should potentially consider these great, eco-friendly products as one of your next home remodeling projects.
Also you should add these counters to the top of your list to consider for your new, environmentally friendly home construction project! There are lots of outstanding reasons to examine bamboo, we'll go over them all here.
The Reason Bamboo Countertops are Green:
The emergence of bamboo as a fantastic green product has gradually evolved over the past several years.
Besides bedding and clothing fabrics, bamboo has been used in the building industry to create countertops, cabinets, flooring and furniture, among other things.
Because it is exceedingly renewable, bamboo is a notable green material. Some varieties used for building products, grow up to a foot every day!
There is no tree that comes anywhere close to that, and because of this, it is much more eco-friendly to use than traditional wood products.
Bamboo Products are Very Durable:
Also, out of the ordinary attribute of bamboo is that it is an very durable building material. It is equal to the strength of many hardwoods and is even harder than a few other hardwoods. You can expect that your bamboo countertops will last for many years because of this durability. Products that last longer are far more eco-friendly than those that need to be replaced within a few years.
Bamboo Products are Very Recyclable:
Another eco-friendly attribute of bamboo is that it is recyclable. Because bamboo can be recycled, it is considered a very green product. Much greener than products that must be thrown into the landfill after it has served it's usefulness.
The Construction of Bamboo Countertops: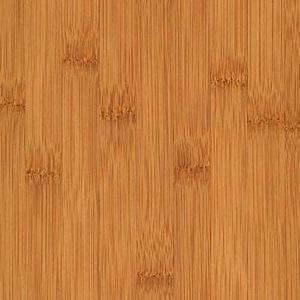 Bamboo Pattern
Bamboo countertops are actually created in a few distinctive ways. Personal preference governs the type of countertop you will decide on. The first type of bamboo countertops are actually a form of laminate. Totally Bamboo is one of the most popular manufacturers of this type of countertop. They begin fabrication their product by making cross-brand laminates, which are called multilam. Small strips of bamboo are then glued together to produce the planks. Once the planks are finished, they are put together with an adhesive that is non-toxic and formaldehyde-free. Most often these countertops are delivered to the job-site in an unfinished state and will need a finish sealer applied as the final step. To keep a project green, it's important to place an eco-friendly, low-VOC sealer as a finish coat on your counters.
Bamboo Countertops Constructed From End Grain:
You may additionally be interested in end-grain bamboo countertops. Just like the planks, they are glued together. But, rather than producing planks of long bamboo, the manufacturers of end-grain bamboo countertops produce them from rectangular pieces of bamboo. After these pieces of bamboo are glued together, there is a sealer applied to finish the countertop.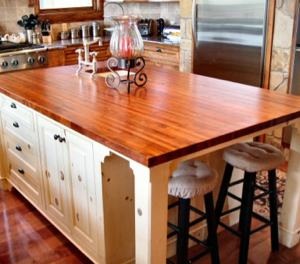 What is the Cost of Bamboo Countertops?
If you compare the price of bamboo countertops to that of natural stone or composites, the cost is very reasonable. The plank-type counters start at about $35 psf for materials only, and the end-grain types of counters cost right around $22 psf, again materials cost only. This is a job for the professional countertop installer and you should only attempt this job if you are extremely handy. Countertop installation often requires many specialized cuts and that is a job that is most beneficial left for the professionals.
Care of Bamboo Countertops:
Care of Bamboo is extremely simple. Just utilize warm water and mild soap to clean them. In order to protect the finish that is on the bamboo countertops, use protection trivets for hot pans. It is significant that you avoid cutting directly on the counter surface, even though bamboo is a tough product, you will damage it. Both the counter and the finish can be damaged with a knife. Because of it's green properties bamboo is an easy product to love, and the reasonable cost makes it even more attractive as a countertop option. If wood counters are something you wish to explore for your new countertops, don't overlook the beauty, green qualities and economics of bamboo.
LEED Certification:
Another great fact about bamboo is it can qualify for LEED Credits. Bamboo Countertops can contribute to certification under the U.S. Green Building Council's LEED Rating System™ MR Credit 6: Rapidly Renewable Materials. Additionally you may acquire credits under LEED EQ Credit 4.4.
comments powered by

Disqus